Varsity Scout Advancement
Rank requirements for Varsity Scouts are the same as for Boy Scouts, except positions of responsibility are met in Varsity-specific roles that can be found in Boy Scout Requirements. Advancement is supervised not by adult leaders, but by a young man called an advancement program manager, with assistance from a team committee member. Methods for conducting boards of review are covered in "Boards of Review: An Overview for All Ranks," Council and district advancement committees should consult the Varsity Scout Guidebook, No. 34827, for a full understanding of how the program works.
Varsity Scout Letter
The Varsity Scout letter is available to Varsity Scouts and adult team leaders. Requirements include attendance at meetings and activities, active participation in high-adventure or sports programs, and living the Scout Oath and Scout Law. It can be worn on the Varsity Scout jacket or the merit badge sash. Gold bars may be added to signify additional letters earned. For more, see the Varsity Scout Guidebook, No. 34827
The Varsity letter may be earned by youth and adult members. The youth requirements are:
Be a registered Varsity Scout team member.

While a team member, actively participate in or accomplish at least one high-adventure program or sports program to the satisfaction of your Varsity Scout coach.

Have an attendance record at team meetings and practice sessions of at least 75 percent for three consecutive months.

Satisfy the Varsity Scout coach that you know and live by the Scout Oath and Law. 02-923E 2006 Printing At the completion of each sports season or ultimate adventure, each participating Varsity Scout will receive a medallion to wear on the letter.
Varsity Scout Denali Awar

d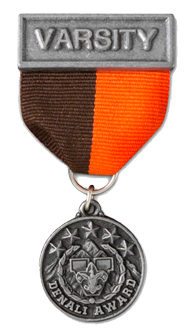 The Denali Award is available only to a Varsity Scout team's youth members who have already earned the Varsity Scout letter. Denali is the name American Indians gave Mount McKinley, in central Alaska. The requirements for the award are:
Be a registered Varsity Scout team member.

Advance one rank toward Eagle. If you are already an Eagle Scout, earn a Palm.

Hold leadership positions in a Varsity Scout team for at least six months.

a) While serving as team captain or a program manager, act as primary leader on at least two activities. Program managers should choose activities in their field of emphasis. Team captains may be primary leaders of activities in any of the five fields of emphasis.


b) While serving as a program manager or team captain, demonstrate shared leadership skills by participating in supportive roles in activities in each of the three remaining fields of emphasis.

Satisfy the team captain that you know and live by the Varsity Scout Pledge.

Complete a progress review.