#GivingTuesday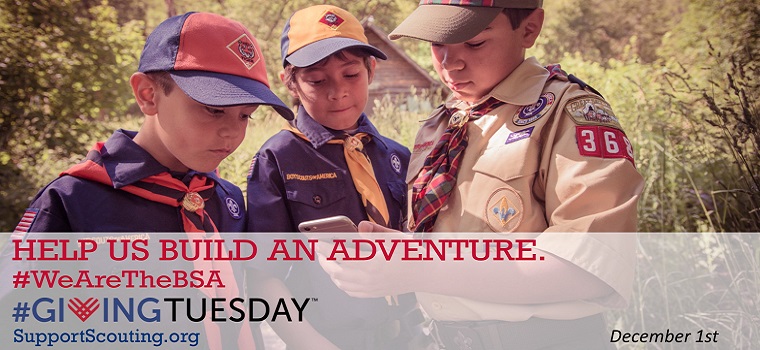 On Tuesday, November 28, 2017, charities, families, and businesses, will come together for one common purpose: to celebrate generosity and to give, supporting organizations like Scouting and Great Rivers Council.
In the pattern of Black Friday and Cyber Monday, #GivingTuesday kicks off the giving season. Please do more with your wallet than just shop. Help support the good work Scouting does to build young people of character. #GivingTuesday proves that the holidays can be about both giving and giving back.
We invite you to help by giving to the Boy Scouts of America, Great Rivers Council through our donation website – www.FriendsofScouting.org.
Investing in the Boy Scouts of America creates opportunities for youth to gain memorable experiences and be instilled with values, principles, and skills that will help them develop into the future leaders of our nation. By contributing to Scouting, you help young people grow to become citizens who are trustworthy, loyal, helpful, friendly, courteous, kind, obedient, cheerful, thrifty, brave, clean, and reverent.
Thank you for your support of Scouting on this #GivingTuesday! We couldn't do it without you!